Robocup-AG @ Night of Science – Review
30 Jun
Author: tobi - Category: Events, HeliControl, RoboCup
On June 19th 2009, the Night of Science of the Goethe University Frankfurt took place for the 4th time at campus Riedberg where the computer science was part of the outline program for the first time and therewith the team of the Joint Robotics Lab.
Despite the slightly isolated location, numerous visitors found their way,
which passed the time playing with the remotely controlled helicopters of the HeliControl-Project, as well as witnessing live navigation-experiments with the robot "Ron" (robot for optical navigation). A notably highlight we were able to present was the youngest member of the JRL: the little bipedal robot "Nao".
Since we received our little robot only two months before the NightOfScience, we weren't able to show real artificial intelligence yet, but controlled it with a remote we developed at the Joint Robotics Lab.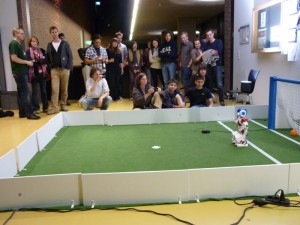 To our pleasure many interested spectators were in tense excitement, when the little robot maneuvered the ball towards the goal, earning plenty of applause for scoring a goal. Nao showed gratefulness by interacting with the audience, evoking smiling faces with the young and the young at heart. Even if Nao showed some signs of fatigue, everyone has been waiting patiently, forgiving his little "naps" on the ground. For those who weren't interested in soccer, Nao performed KungFu or showed his skills in dancing.
Altogether it has been an enjoyable evening for our Team and – at least we are hopeful – our visitors. We would like to thank all interested visitors of the night of Science an hope we are able to present you a real soccer-game between robots next year, along with further outcomes of our research.
Kommentare sind zu diesem Thema nicht möglich.